Shilon
<<.Lannister.>>
Sat Apr 29 16:00
White Horn
Vengeance
Sat Apr 29 14:00
Mobius
Mobius Event
Fri Apr 28 08:00
Mobius Hardcore
Fri Apr 28 17:00

Claim Rewards - Level Event
| | | |
| --- | --- | --- |
| | GHOSTofKILL | 800 |
| 2 | ANUBIS | 800 |
| 3 | PitinazinN | 800 |
| 4 | hunbrider | 800 |
| 5 | LengTouQing | 800 |
Full ranking
| | | |
| --- | --- | --- |
| | Valentine | 413 |
| 2 | Holzmichel | 379 |
| 3 | Cleopatra | 375 |
| 4 | NOSTRESS | 374 |
| 5 | gongniu | 373 |
Full ranking
[Announcement] Password change (Important, must read!)
Lately we see that there are many accounts getting hacked.
To prevent this from happening further i decided to reset all passwords.
I understand this is not really convenient but sadly it had to be done.
To receive your new password:
Go to the website, and in the top click on Lost Password.
Fill in your username and security pin code.
You will receive a link on your email address to change your password.
For safety reasons it will not be possible to change it back to the old password.
If you need any more assistance changing your password please click the "Contact Us" link on the website to create a support ticket.
We are very sorry for the inconvenience
Posted at Monday, 24 April - 16:49 by Administrator
[News] Calendar April Event Exp - Hardcore Server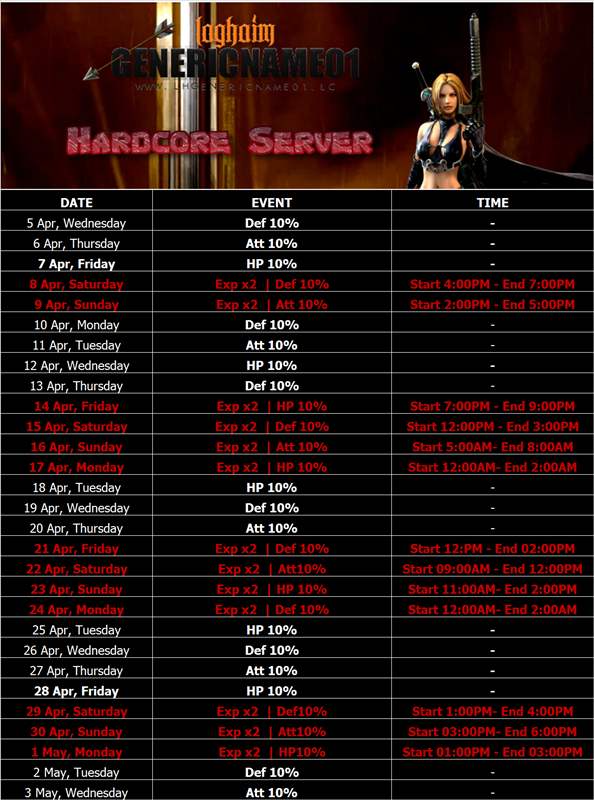 *All events need an online GM to be enabled or disabled.
So it can happen a little delay if GM isn't available. But we will make as much as possible on time.
Posted at Thursday, 06 April - 01:01 by Stacie
[Announcement] Hardcore Server
Today i will present to you our new server.
We have been told a lot of times that our server is too easy, no challenge.
Laghaim should be about leveling, and that is what this server is about!
If you want to be max level in 2 weeks, then this server is not for you!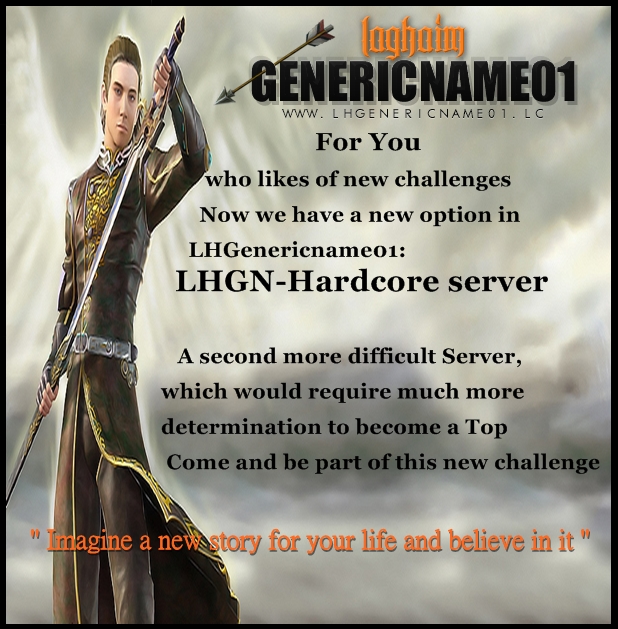 You don't need a new account to play on this server, you also
don't need to download a new client.
Simply select the server, login with your username and password.
Will you be in the top10 ?
Posted at Tuesday, 04 April - 18:18 by Administrator
[News] "Event Guess the Place" is back
In "Guess the Place" a [GM] will make a screen of some place without coordinates. The player needs to find this exact location. Make a screen and post the screen in forum in reply in this topic. Need Show in the Screen the coordinates or type the coordinates bellow screen.
There will be some rounds in Saturday 1st april and Sunday 2nd april. The first 2 players that post the correct screen and the correct coordinates will be the winners for the round.
Post a pic with name of your character and the exact location.
This topic will remain closed and when GM start Event he will post a screen
here, announce in game and open topic for players participate.
Winners will can choose a cape or a wing bellow:

South Africa Cape
Alemanha Cape
Saudi Arabia Cape
Argentina Cape
Australia Cape
Belgium Cape
Bolivia Cape
Brazil Cape
Bulgaria Cape
Canada Cape
Chile Cape
China Cape
Colombia Cape
Croacia Cape
Denmark Cape
Egypt Cape
Ecuador Cape
Escocia Cape
Espanha Cape
Franca Cape
Wales Cape
Britain Cape
Holanda Cape
Hungria Cape
Italy Cape
Yugoslavia Cape
Japan Cape
Marrocos Cape
Mexico Cape
Nigeria Cape
Norway Cape
Paraguai Cape
Peru Cape
Polonia Cape
Portugal Cape
Czechoslovakia Cape
Romenia Cape
Russia Cape
Serbia Cape
Sweden Cape
Switzerland Cape
Suriname Cape
Turkey Cape
Ukrania Cape
Uruguai Cape
USA Cape
Venezuela cape
South Africa Wing
Alemanha Wing
Saudi Arabia Wing
Argentina Wing
Australia Wing
Belgium Wing
Bolivia Wing
Brazil Wing
Bulgaria Wing
Canada Wing
Chile Wing
China Wing
Colombia Wing
Croacia Wing
Denmark Wing
Egypt Wing
Ecuador Wing
Escocia Wing
Espanha Wing
Franca Wing
Wales Wing
Britain Wing
Holanda Wing
Hungria Wing
Italy Wing
Yugoslavia Wing
Japan Wing
Marrocos Wing
Mexico Wing
Nigeria Wing
Norway Wing
Paraguai Wing
Peru Wing
Polonia Wing
Portugal Wing
Czechoslovakia Wing
Romenia Wing
Russia Wing
Serbia Wing
Sweden Wing
Switzerland Wing
Suriname Wing
Turkey Wing
Ukrania Wing
Uruguai Wing
USA Wing
Venezuela Wing

Posted at Friday, 31 March - 23:27 by Lars
[News] Calendar Event Exp April 2017
*) All events need an online GM to be enabled or disabled.
So it can happen a little delay if GM isn't available. But we will make as much as possible on time.
Posted at Friday, 31 March - 12:11 by Skye